A spicy, creamy dinner that cooks in just one skillet? I'm in! Recipes with easy prep, cook, and clean up are some of my favorites. This One Skillet Spicy Shrimp recipe fits the bill.
The shrimp is tender and delicate, and the spices really bring out the flavor of the shrimp. The cream helps to balance the heat of the chili powder and cayenne pepper. If you are concerned about the dish coming out too spicy (or you want more spice!) you can adjust the amount of cayenne pepper that you add.
Believe it or not, One Skillet Spicy Shrimp will be on your table in just 20 minutes! You'll start by reducing white wine with some spices, then adding cream. After the sauce thickens up, you add the shrimp to the sauce and they'll cook for just a few minutes, long enough to cook them through and to become coated in the creamy, spicy sauce.
You can serve spicy shrimp over spaghetti squash or zoodles. Garnishing with fresh cilantro will really brighten up the flavors.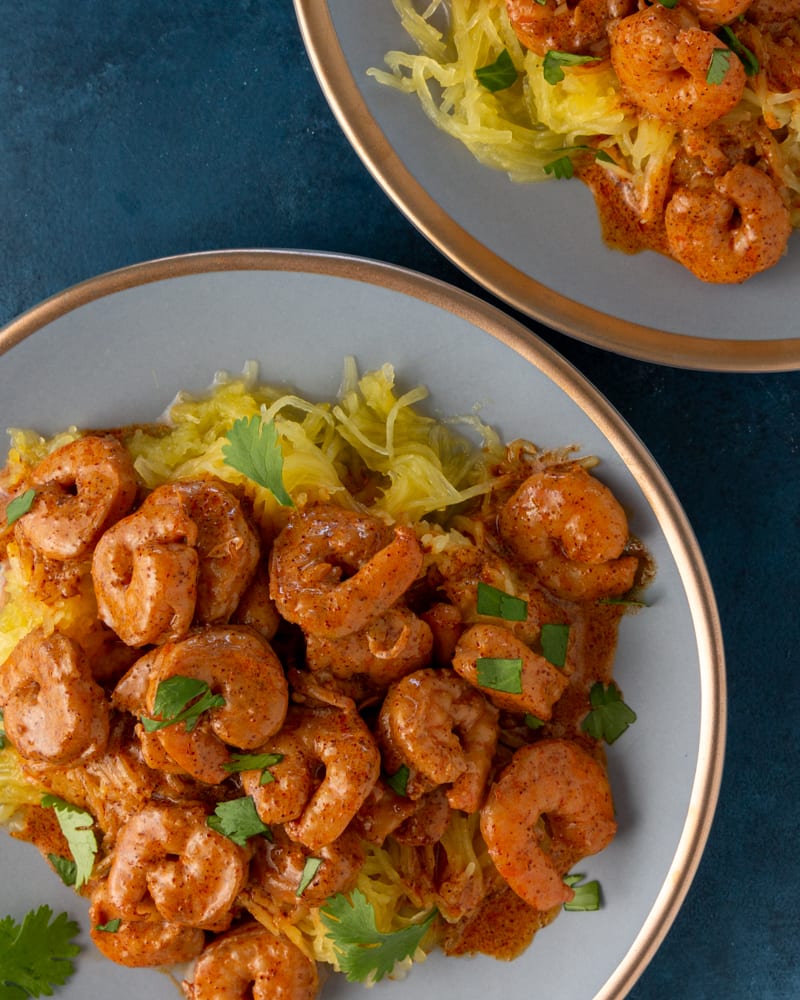 ---
---
In a skillet, mix the chili powder, paprika, garlic and wine. Cook the mixture over medium/high heat, for about 5 minutes, stirring with a wire whisk until liquid is reduced.

Gradually stir in the cream. Simmer for an additional 5-8 minutes, until the sauce thickens slightly and turns a red/rust color. Add cayenne pepper, salt, and black pepper to taste.

Reduce heat to low and add the shrimp. Cook the shrimp in the sauce for 3-4 minutes, or until the shrimp are pink and opaque.

Serve over spaghetti squash or znoodles, and garnish with chopped cilantro, if desired.
Notes
Shrimp can become overcooked easily when reheated. However, if you have leftovers, you can gently warm up on the stove or in the microwave within 2-3 days.
This recipe serves 4 people. Each serving is approximately 1/2 cup of shrimp with sauce. Macros do not include spaghetti squash or znoodles.
If there are leftovers, you can keep them in an airtight container for up to 2-3 days. To avoid overcooking the shrimp, gently warm them in a small pan on the stove at low heat, or microwave for a minute or two (just keep checking the temperature and when warm, stop cooking.)
If you're looking for more quick dinner ideas, try one of my favorite recipes, Keto Egg Roll in a Bowl, from my new book, Beyond Simply Keto. Tuscan Keto Chicken is quick and easy, too!