Keto Protein Bread is adapted from the famous Egg White Bread (Maria Emmerich recipe) but it is higher in fat and has a secret ingredient  giving it a soft and fluffy texture.
What's more this version of the bread is perfect for Carnivore as well as BBBE (Beef Butter Bacon and Egg protocol) because it contains only animal ingredients.
The response to this bread has been phenomenal!  Be sure to watch it on the video for best results.  If you don't have a stand mixer, don't worry it will work with a hand held electric mixer!
Keto Protein Bread for Carnivore and BBBE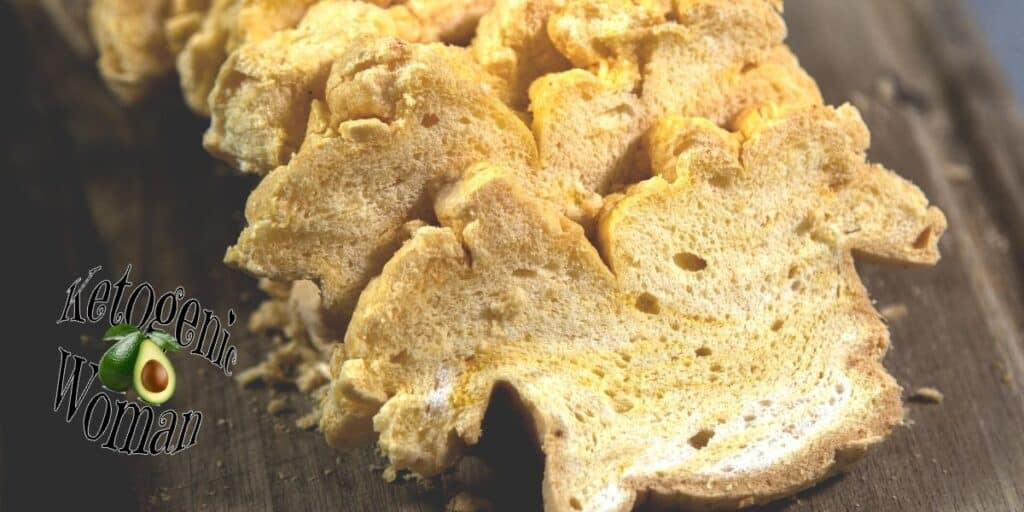 What you will Need for this soft Keto Protein Bread! 
NOTE: You can also buy Keto Chow direct and get a large bag of the Keto Chow Soup base as well as many other flavors!  Use my code KETOGENICWOMAN to get 10% off!  Purchase here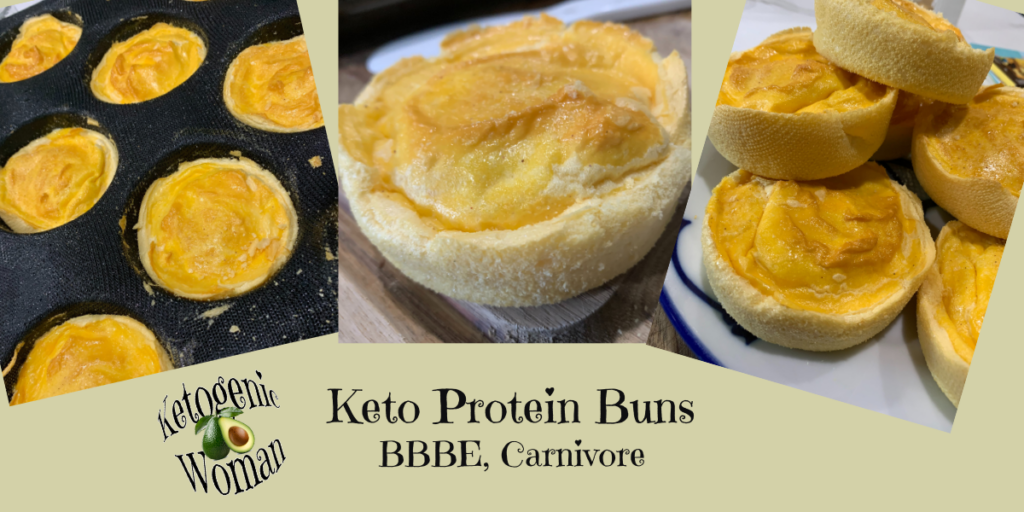 How to Make Keto Protein Buns
My favorite way to use this recipe to make buns is to use either the silicone mesh bun pans for burgers and sandwiches or for hot dogs use the silicone mesh baguette pans.
The little holes in the bottom ensure you get a crust both at the top and bottom of the bun! For best results, place the bun pans on a rack and then on a baking sheet. I do find that I also need to spray the bun pans.
However you have to be sure to not overbake them or the buns will be hard and dry.  Every oven is different so you might have to test your oven.
In my oven I bake them for 15 minutes at 325, then brush the tops with an egg wash or melted butter, then bake another 10 minutes, then I take them out.
UPDATED BBBE Buns (September 20, 2022)
You can take this bread or these buns to a whole new level thanks to a technique that I have been calling Indigo Nili's Frozen Butter Trick! Grate 1/2 stick of frozen butter and put it in the bowl on low speed at the very end of mixing the batter. To see how I did it, watch my latest BBBE Bun video here!
Prep Time
10 minutes
Cook Time
30 minutes
Additional Time
15 minutes
Total Time
55 minutes
Ingredients
6 Egg Whites
3 Egg Yolks
42 grams (1.5 oz) Egg White Powder
30 grams Beef Bone Broth Powder or Beef Protein Isolate (or 22 grams Beef Keto Chow) or 2 tbsp beef gelatin or 2 scoops Vital Proteins Collagen
1/4 tsp Redmonds salt
1/2 tsp Cream of Tartar (only needed if high humidity keeps egg whites from getting stiff)
1-2 tsp guar gum (optional)
Optional: 1/2 stick frozen butter, grated
1 Egg beaten (reserved for egg wash)
Instructions
Preheat oven to 325
Separate 6 egg whites into a mixing bowl, keep 3 yolks for later in the recipe and save 3 yolks for something else!
Add salt, egg white powder and bone broth powder into mixing bowl. Mix on high for 3 to 5 minutes until mixture has stiff peaks.
Turn mixer down to lowest speed and add 3 egg yolks one at a time, allowing a couple spins for each one to become incorporated into mixture.
If using the frozen grated butter, dump that into the bowl while the mixer is on lowest speed. Stir until combined.
Press mixture into a silicone loaf pan (8 x 4). If using glass or metal pan be sure to line with parchment paper.
If making buns use a mesh bun pan on a rack on a large baking sheet.
Bake for 15 minutes for 9 buns, 20 minutes for 6 buns or 25 minutes for bread. Remove from oven and brush top with egg wash and sprinkle with Redmonds seasoning salt.
Bake for an additional 5-10 minutes.
Turn oven off and leave in oven for an additional 15-20 minutes for bread, but do not leave in for Buns.
Allow to cool completely then remove from pan and slice in 12 slices.
Enjoy!
Notes
NOTE 1: If using Keto Chow or any other protein powder that contains fat, be sure to add it in when adding in the egg yolks at the end. The fat could cause your batter to collapse.
NOTE 2: You can also add 1 tbsp beef gelatin for even softer fluffier bread!
NOTE 3: To make buns, bake at 325 for approximately 1520 minutes, brush with egg wash and then bake another 5-10 minutes, then remove from oven.
NOTE 4: adding frozen grated butter takes these buns to a whole new texture! This idea came from Indigo Nili's Youtube Channel!
Nutrition Information:
Yield:
12

Serving Size:
1

Amount Per Serving:
Calories: 54Total Fat: 2.1gCarbohydrates: 0.6gNet Carbohydrates: 0.6gFiber: 0gProtein: 7.6g