You will love being Keto when you can have this rich and creamy Ice Cream Recipe! What's even better is that it is 100% Keto Egg Fast Compliant! Use your favorite sugar free syrup to add flavors or even use extracts and sweetener instead. Get ready for the best homemade ice cream you've ever tasted! Recipe can be made in any Ice Cream machine.
Keto Egg Fast Ice Cream 
If you are doing the keto egg fast you will need these ingredients:
whole raw eggs (both whites and egg yolks)
butter
cream cheese (optional)
flavored extracts of choice or sugar free syrups
sweetener of choice (allulose or bocha sweet are best for homemade ice cream).  NOTE: you don't need sweetener if you are using the sugar free syrups
Ice cream machine of some kind. I highly recommend the Ninja Creami.
Large bowl for mixing
Ninja Pint containers (or other air tight containers if using a different ice cream maker) to store your ice cream mixture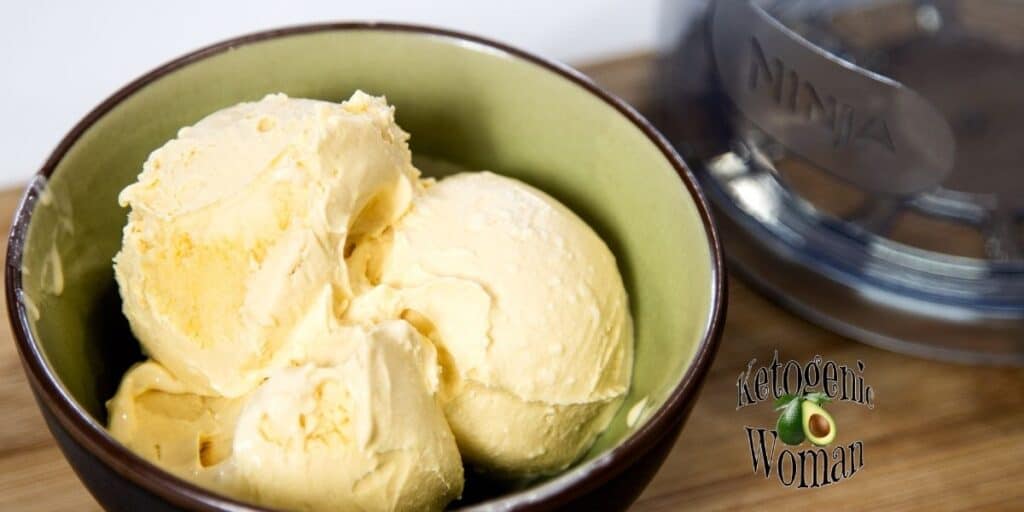 Because this is an egg fast recipe, there is no heavy cream, no coconut milk or almond milk, no whipping cream, we are just using the standard protocol butter, eggs, sweetener and flavor.
Read more about the Keto Egg Fast here.
With the Ninja Creami, there is no cooking involved, no need to try and make a custard although you can if you want. This machine will take almost any liquid and turn it into creamy ice cream!
Options for Flavor, Texture and Sweetness for Egg Fast Ice Cream

Flavorall Drops (99 flavors sweetened with stevia)

Tara gum or Guar Gum for a better creamy mouth feel! (1/4 tsp adds 1 carb for whole pint)
If you do not want to use gums like tara gum or guar gum, then do what I prefer and use a scoop of collagen powder! 
Flavor extracts (not sweetened) with the addition of a separate sweetener such as stevia, allulose, bocha sweet, swerve etc.  For example you can make a simple but delicious Egg Fast Vanilla Ice Cream by using 1 tbsp vanilla extract and 2-3 tbsp allulose or other sugar substitute.

Check out these 2 Keto Ice Cream game changers here:
Keto Chow (Also for making keto cookies and pudding but makes a killer ice cream!). Get your Keto Chow here.
Skinny Syrups.  They have both 'Keto' flavors (using stevia/monkfruit) and sugar free flavors (using sucralose).  In my opinion, it's your choice depending on what sort of keto plan you are following, I use both! Use KETOGENICWOMAN for a discount code. Buy Skinny Syrups here.
I'm Not on the Egg Fast, What Else Can I Do With This Ice Cream?
The sky is the limit here!  You can make ice cream out of almost anything with the Ninja Creami!
You can make it egg free or dairy free or low fat (think PSMF!) or whatever your heart desires and still stay on your keto diet!
Check out my article that explains what PSMF is all about!
You can use these following ideas:
coconut milk, almond milk, heavy cream, low carb yogurt
Keto Chow shakes can be made into ice cream
Other protein drinks can be made into ice cream
There is a mix in function on the Ninja Creami. You can mix in sugar free chocolate chips, sugar free cookie crumbles, a handful of blueberries or strawberries. DQ Blizzard anyone?
I hope your imagination is going a little wild right now and you are coming up with ideas for many keto ice cream recipes!
I Don't Have the Ninja Creami, Can I Still Make This Ice Cream?
Yes! This keto ice cream was also made using this Cuisinart Ice Cream maker! You can use any traditional Ice Cream Maker that you already own!
I Cannot Eat Raw Eggs, How Can I Make This Ice Cream?
You can use hard boiled eggs or scrambled eggs instead:  Watch my youtube video where I make Butter Coffee flavor egg fast ice cream using boiled eggs!
Egg Fast Ice Cream Printable Recipe Card
Prep Time
5 minutes
Additional Time
5 minutes
Total Time
5 minutes
Ingredients
4 whole large eggs
4 tbsp butter, melted
2 tbsp cream cheese (completely optional!)
1/4 tsp tara gum or guar gum (optional) OR scoop of collagen
(The gum or the collagen are optional but will give a much nicer texture and mouth feel)
Sweetener and flavor of choice (see Notes below)
Instructions
With a mixer, beater, blender or by hand: Beat 4 eggs until well mixed, then beat in melted butter
Beat in your sweeteners and flavors (see Notes)
Pour mixture into Ninja pint container. If liquid is below the line you can add water to top up. If not doing the egg fast you can top up with cream, coconut or almond milk if desired.
Freeze container for 24 hours
Remove pint from freezer. Spin on Lite cycle. If mixture is not creamy, do a Re-spin cycle.
Leftovers: Flatten top of pint with spoon and put back in the freezer. When ready to eat again, Spin on Lite cycle. I often find that due to the high fat content, this egg fast ice cream just needs to be left out to soften and I don't bother with the respin!
If using other Ice Cream Maker, follow instructions for that and ignore Steps 3,4,5 and 6!
Notes
Options for Flavor and Sweetness
Skinny Syrups (sugar free syrups), 2-4 tbsp to your taste
Flavorall Drops (99 flavors sweetened with stevia)
Stevia Drops (many flavors)
Flavor extracts (not sweetened) with the addition of a separate sweetener such as stevia, allulose, bocha sweet, swerve etc. Use anywhere from 1-3tbs to your taste.