Imagine a bowl of warm, comforting bliss that's not only a delight for your taste buds but also kind to your keto lifestyle. That's exactly what my Keto Cream of Broccoli Soup recipe offers. 
Roasted to perfection, the broccoli and garlic blend seamlessly with rich chicken broth, creating a creamy, heartwarming soup with a slight smoky flavor.
Enhanced with a hint of ginger and topped with a sprinkle of Grana Padano cheese and crunchy almonds, this soup is a symphony of flavors. 
Perfect for cozy evenings or as a nutritious lunch, my recipe promises to be a staple in your keto kitchen. Get ready to indulge in a bowl of creamy goodness that's as nourishing as it is delicious!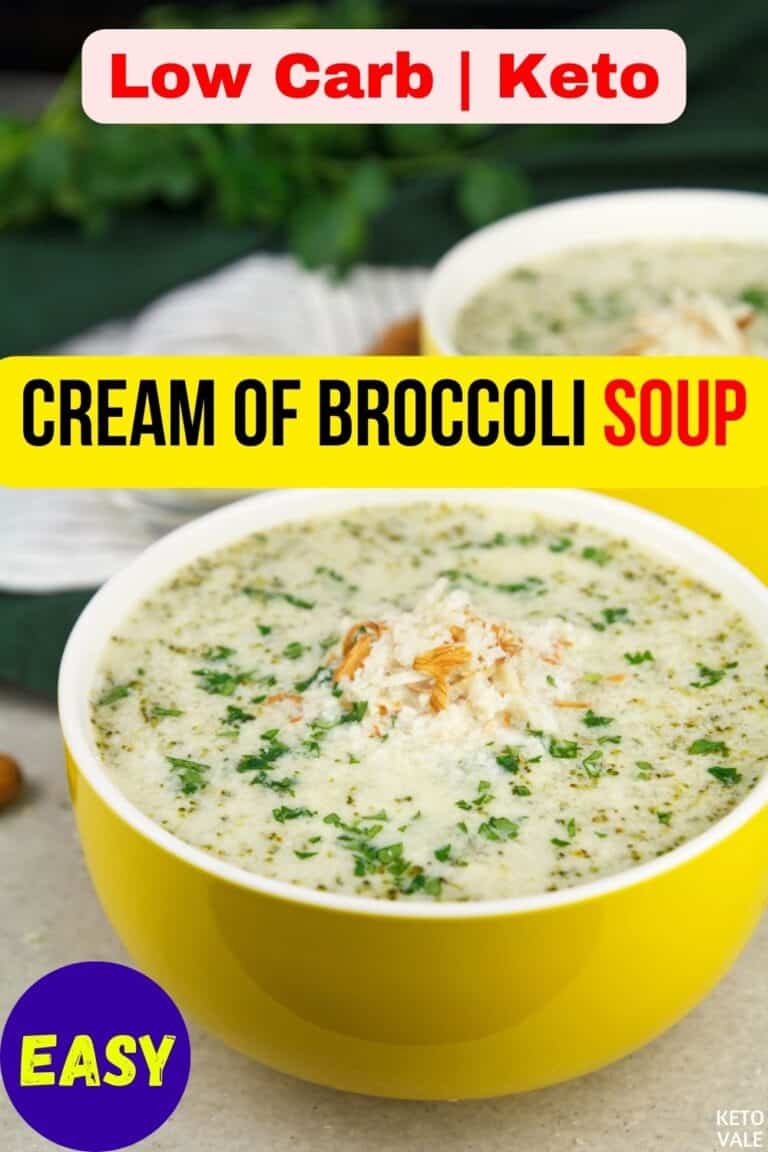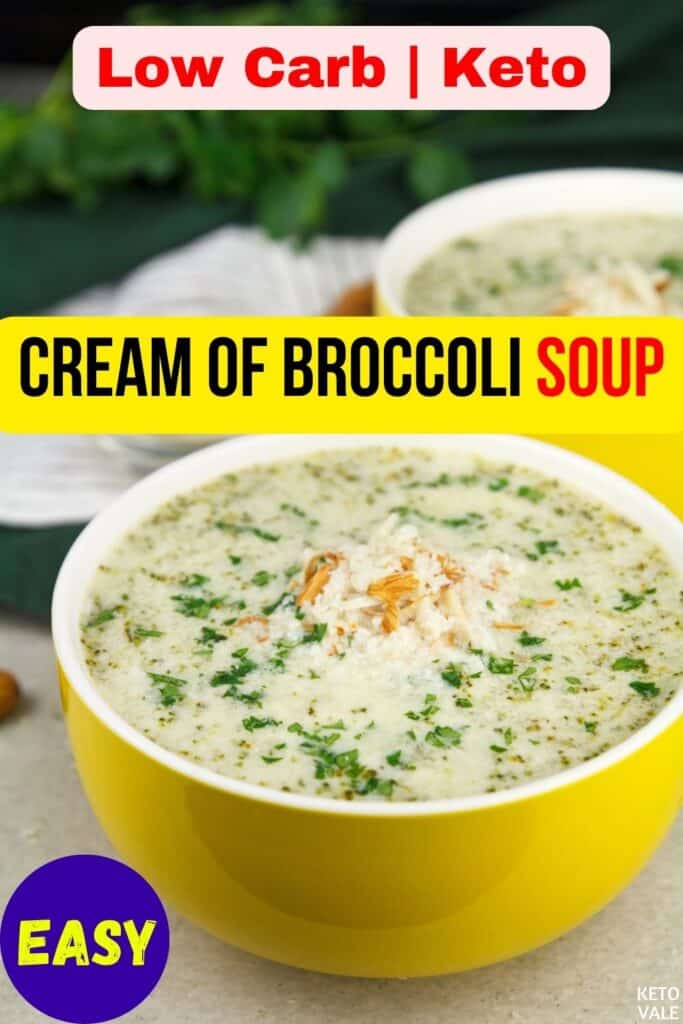 Broccoli is the primary ingredient in this Keto Broccoli Cheese Soup. But don't let the name fool you – this soup is packed with many powerful antioxidant ingredients that will help heal your body from the inside out, including garlic, olive oil, ginger, parsley, and chicken broth. 
What do we know about broccoli? It is packed with vitamins, minerals, and bioactive compounds. It is so perfectly healthy that nutritionists everywhere claim it to be one of the healthiest foods you can eat. 
What do we know in detail? It is an excellent source of vitamin C. It also contains vitamins A, K, and B9, as well as minerals and fiber.
As a cruciferous vegetable, broccoli has been shown to protect against cancer, thanks to its sulforaphane content. Research shows that sulforaphane has anti-inflammatory and chemoprevention properties that control carcinogenesis (*).
Ginger contains the bioactive compound gingerol, which has also been shown to protect against cancer (*). Ginger is also very soothing on upset stomachs, thanks to its antioxidant properties. 
Eating ginger with broccoli is a good way to soothe digestive upset (such as gas) that sometimes accompanies eating cruciferous vegetables. It will help soothe your digestive system while making you feel great. Roasting the broccoli is also a great way to make broccoli more easily digestible.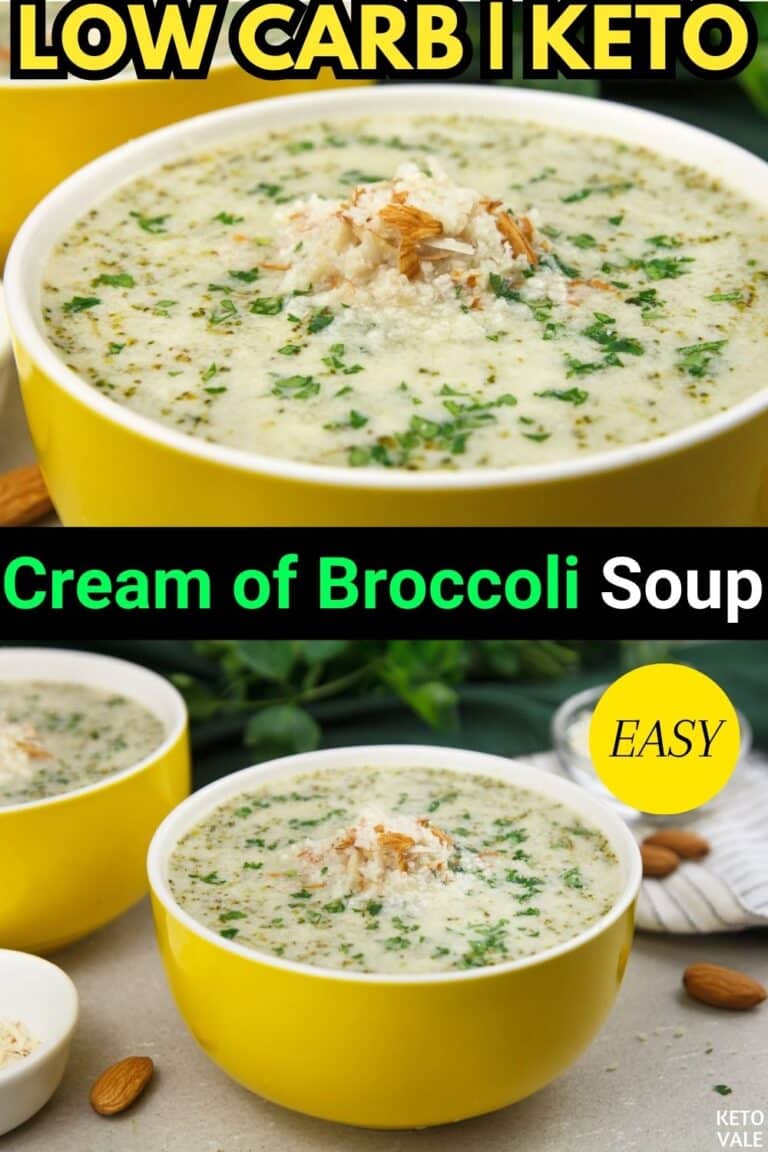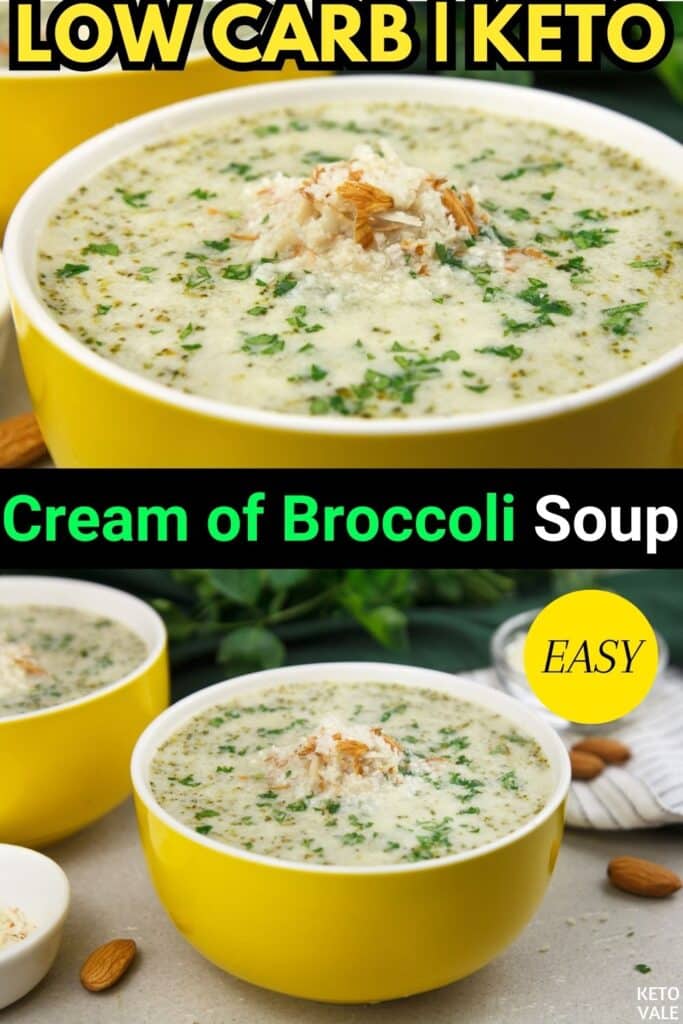 The combination of olive oil and garlic has been used as holistic medicine for centuries. Garlic contains a compound called allicin that has been shown to contain antioxidant, anti-inflammatory, and lipid-lowering properties. 
Studies have shown that allicin may help prevent cancer, cardiovascular and metabolic disorders, blood pressure, and diabetes (*). 
The healthy fats in the olive oil help make the bioactive compounds in garlic and the rest of this dish more bioavailable. So don't think of this soup as just food. It's medicine! 
How to Make Low Carb Cream of Broccoli Soup
Preheat Your Oven: Set your oven to 400°F (200°C) to get it ready for roasting the broccoli.
Prepare Broccoli and Garlic: In a large mixing bowl, combine 3 cups of broccoli florets and 2 peeled garlic cloves. Drizzle them with 1 ½ tablespoons of olive oil and season with sea salt and black pepper. Toss everything together so the broccoli and garlic are evenly coated.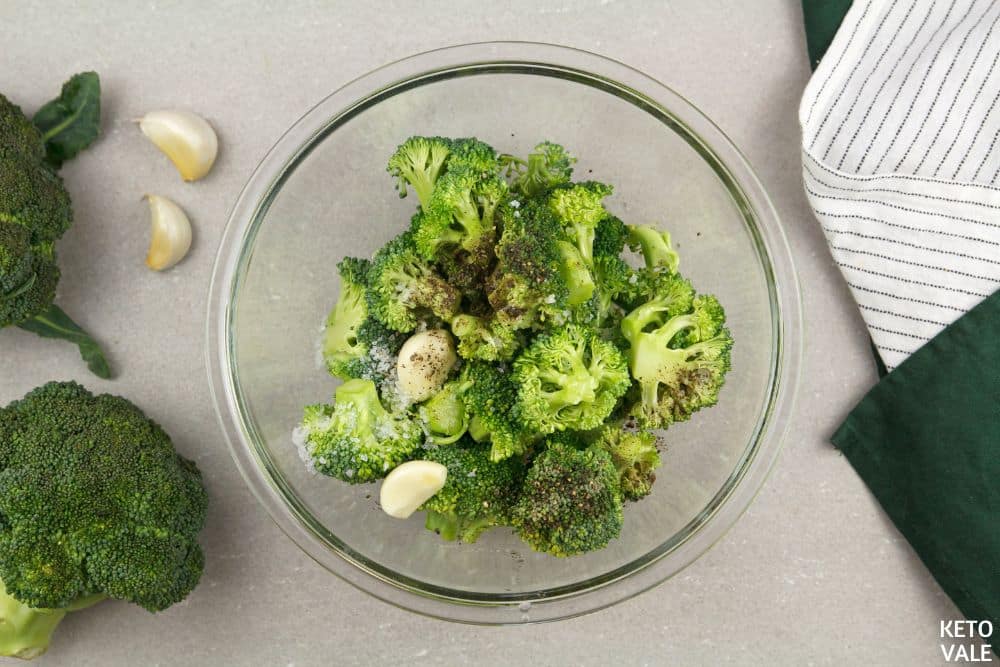 Roast Broccoli and Garlic: Spread the broccoli and garlic evenly on a baking sheet. Put it in the preheated oven and roast for 30 minutes. The goal is to get the broccoli slightly crispy and golden.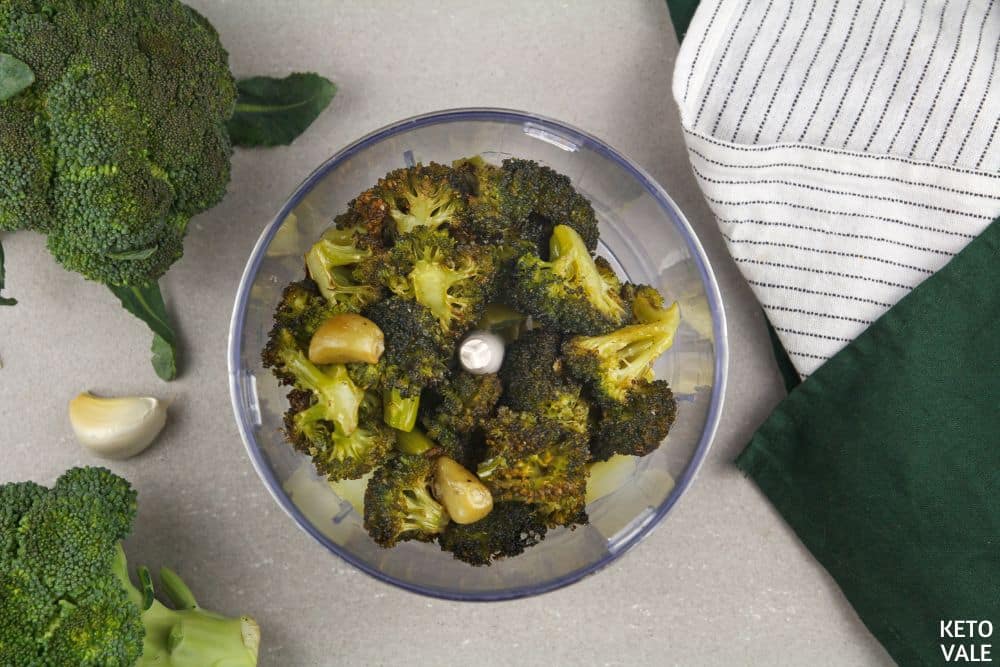 Blend Broccoli and Garlic: After roasting, let the broccoli and garlic cool a bit. Then, transfer them to a food processor, add ½ teaspoon of ground ginger, and blend until you get a smooth puree.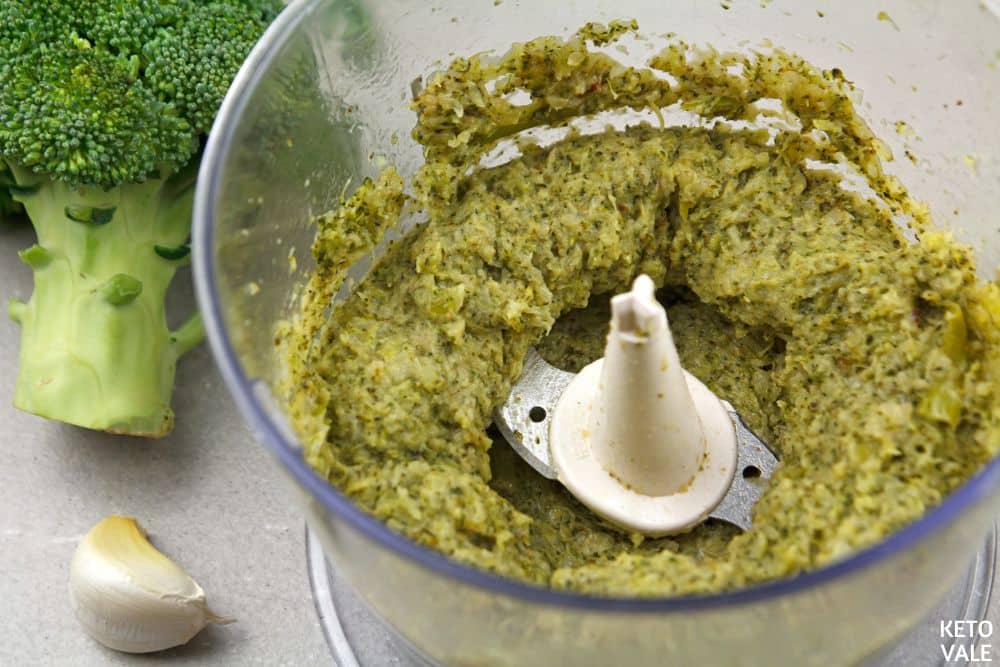 Cook the Soup: Pour 4 cups of chicken broth into a large pot and bring it to a boil. Once boiling, reduce the heat to low and add your broccoli puree into the pot. Stir well to combine.
Add Cream: Add ½ cup of heavy cream to the pot. Stir everything together and let it cook on low heat for an additional 2 minutes, just to heat through.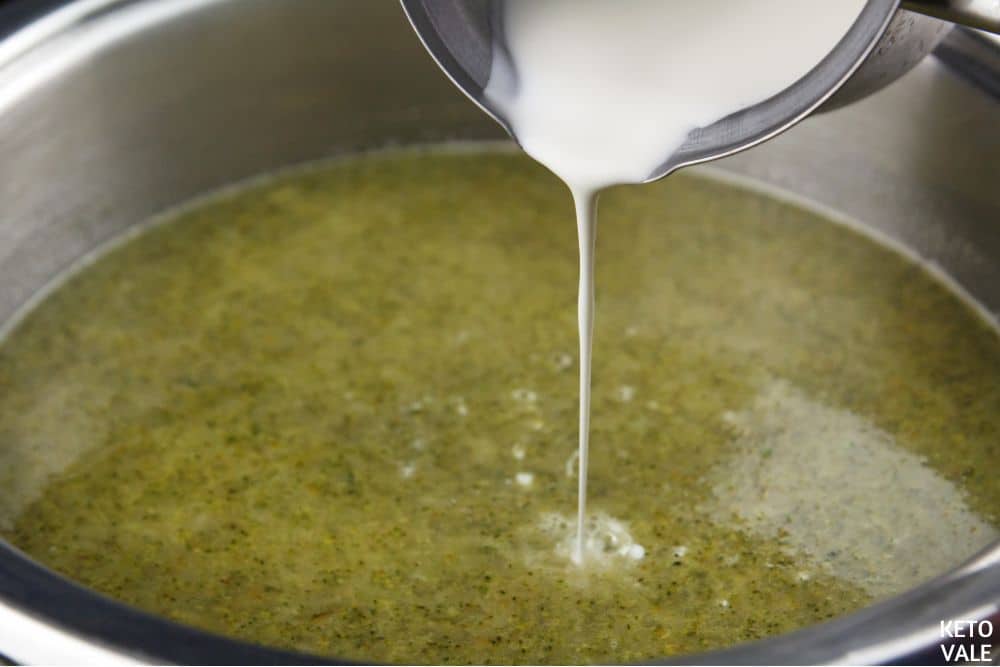 Garnish and Serve: Serve your soup hot. Sprinkle each bowl with freshly chopped parsley, grated Grana Padano cheese, and, if you like, some chopped almonds for an extra crunch.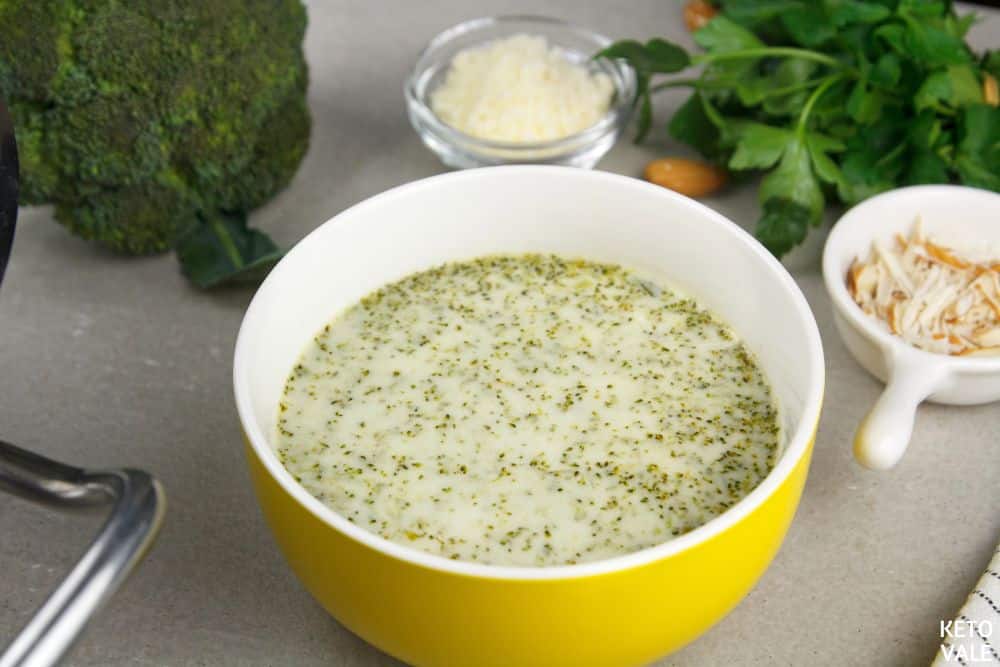 I don't use cheddar cheese in this recipe. But if you wish to, you can try my Instant Pot Broccoli Cheddar Soup recipe.
And there you have it! A simple yet delicious Keto Creamy Broccoli Soup that's perfect for any beginner in the kitchen. Enjoy your homemade soup!
See more keto soup recipes you can try:
Keto Cream of Broccoli Soup
Savor the rich and comforting flavors of Keto Cream of Broccoli Soup, a perfect blend of roasted broccoli and garlic, pureed smooth and simmered in chicken broth, enhanced with a touch of ginger and creamy heavy cream, and elegantly garnished with Grana Padano cheese, fresh parsley, and optional almonds for a delightful crunch. This soup is a wholesome and delicious addition to any keto-friendly meal.
4

cups

chicken broth

3

cups

broccoli florets

2

cloves

garlic

1 ½

tbsp

olive oil

½

cup

heavy cream

½

tsp

ground ginger

sea salt and black pepper

to taste

parsley

freshly chopped

4

tsp

Grana Padano

or any hard cheese, grated

almonds

chopped (for garnish, optional)
Preheat the oven to 400F.

In a bowl, toss broccoli florets and garlic cloves with olive oil, salt and pepper. Spread on the baking sheet and roast for 30 minutes.

Transfer roasted broccoli and garlic to the food processor, add ground ginger, and blend until smooth.

Pour chicken broth into a pot and bring to a boil.

Reduce the heat to low and add broccoli puree. Mix well.

Pour in heavy cream, give it a good stir, and continue to cook on low for 2 minutes more.

Serve hot garnished with chopped almonds, fresh parsley and grated Grana Padano.
Nutrition Facts
Keto Cream of Broccoli Soup
Amount Per Serving
Calories 192
Calories from Fat 153
% Daily Value*
Fat 17g26%
Saturated Fat 8g40%
Polyunsaturated Fat 1g
Monounsaturated Fat 7g
Cholesterol 39mg13%
Sodium 919mg38%
Potassium 297mg8%
Carbohydrates 7g2%
Fiber 2g8%
Sugar 3g3%
Protein 5g10%
Vitamin A 875IU18%
Vitamin C 62mg75%
Calcium 76mg8%
Iron 1mg6%
* Percent Daily Values are based on a 2000 calorie diet.
FAQ
Does cream of broccoli soup have carbs?
Yes, the typical cream of broccoli soup typically contains much higher carbs, primarily from the broccoli – and sometimes added potatoes or peas as well as any added thickeners or dairy products such as milk. My keto version significantly reduces the carbs by avoiding high-carb ingredients. It has approximately 5 grams of net carbs per serving.
How do you thicken cream of broccoli soup on keto?
To thicken cream of broccoli soup on a keto diet, use low-carb thickeners like xanthan gum, pureed vegetables, heavy cream, cream cheese, or a small amount of coconut or almond flour. Xanthan gum is particularly effective; use it sparingly and whisk continuously to avoid clumps. Pureeing part of the soup itself can also naturally enhance thickness without additional ingredients.
How do you store leftover creamy broccoli soup?
Store leftover creamy broccoli soup in an airtight container in the refrigerator for up to 3-4 days. You can also freeze the soup for longer storage, up to 2-3 months; thaw in the refrigerator before reheating. Reheat gently over low heat to avoid separation.
How do you reheat creamy broccoli soup?
You can reheat creamy broccoli soup by warming it gently over low to medium heat in a saucepan, stirring occasionally to prevent sticking and ensure even heating. Avoid boiling the soup as high heat can cause dairy-based soups to separate or become grainy. If microwaving, use a microwave-safe container and heat in short intervals, stirring in between.