These keto chicken nuggets are gluten free, low carb, and absolutely delicious for kids and grown ups alike. And only 3.5 grams of net carbs per serving!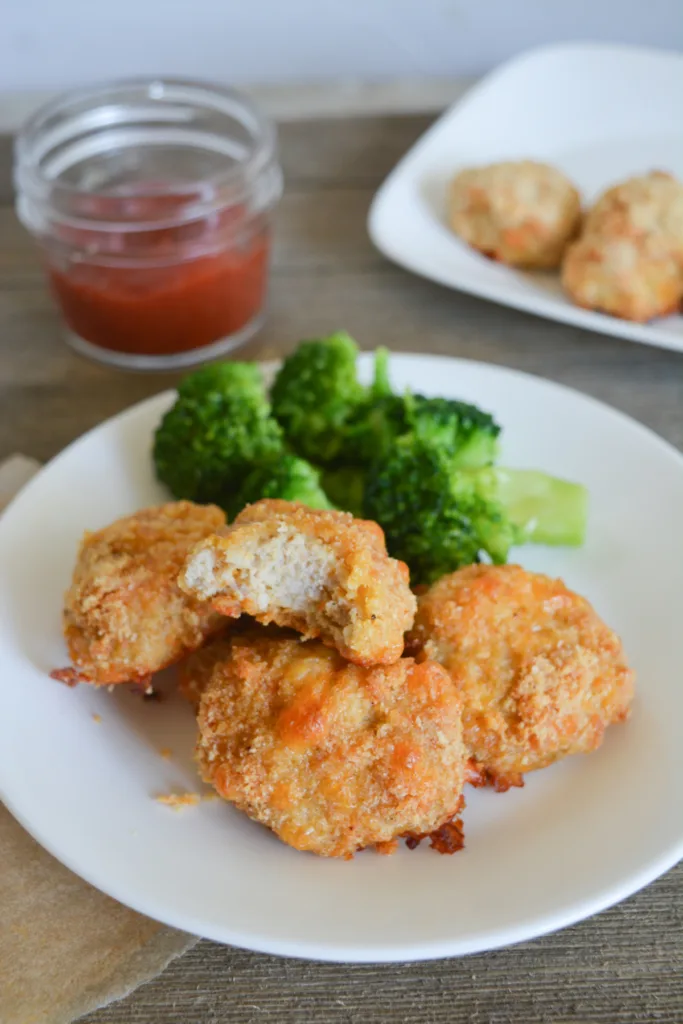 Sometimes it seems like chicken nuggets are their own food group to kids. Whether they're fried or baked, the flour coating still usually contains too many carbs to easily fit into a keto diet.
The nuggets are coated in almond flour and pork rinds for a super crunch rivaling that of regular nuggets. This recipe takes a little effort, but is absolutely worth it for the little ones and the children at heart!
What ingredients do you need to make keto chicken nuggets?
Ground chicken – I prefer to use ground chicken thigh because it's fattier and more flavorful than chicken breasts. BUT feel free to adjust based on your preferences and what you have available to you.

Ground chicken is an amazing protein for low carb recipes. Check out my chicken crust pizza for an easy keto dinner!

If you can't find ground chicken at the store, you can place boneless, skinless chicken thighs into your food processor and pulse a few times until it's the right consistency. You can also ask your local butcher to grind some up for you fresh!

Grated Parmesan Cheese – Yep, the stuff in the green plastic can at the grocery store! It works wonderfully for keto breading just like in this delicious keto air fryer fried chicken!
Shredded Cheddar Cheese – If you have the time to shred it fresh off the block, I'd always recommend going that route. I think it tastes better and it doesn't have the fillers that go into pre-shredded cheese to prevent it from sticking together.
Almond Flour – I like to go with a blanched, finely ground almond flour like Blue Diamond. This has been my favorite brand for a few years now.
Egg – This recipe uses one large egg.
Pork Rinds – The pork rinds are part of the breading so you'll want to crush them up super finely. Just throw them into your food processor and let it do all the work!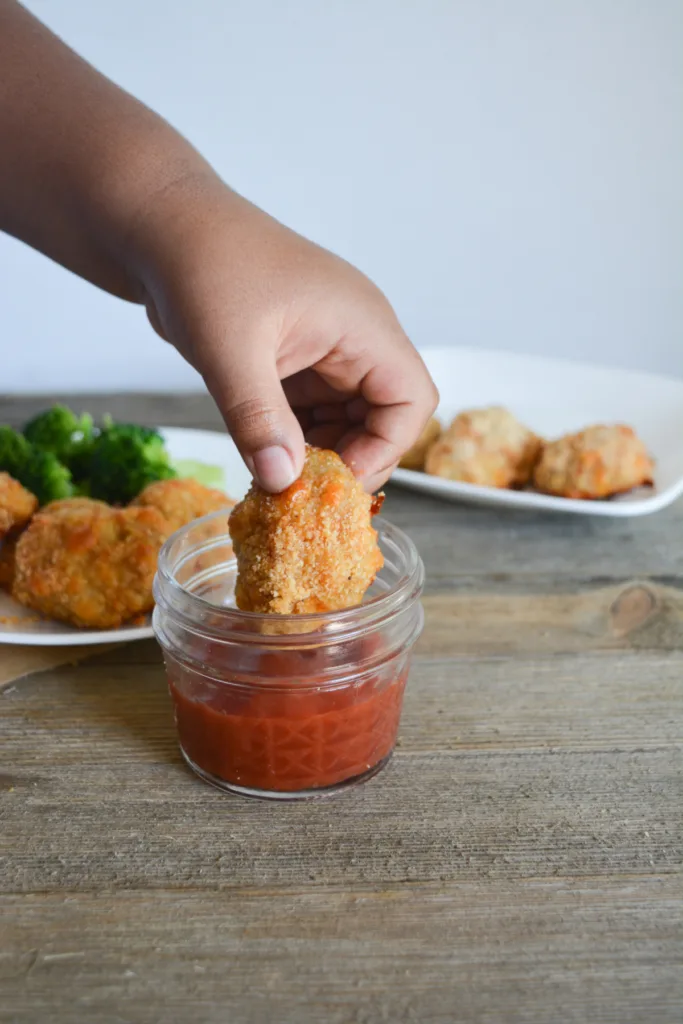 Nutrition Information
This recipe makes 20 keto chicken nuggets. For one serving (4 nuggets per serving) you're looking at:
Calories: 500 Calories
Total Carbs: 5 grams
Fiber: 1.5 grams
Net Carbs: 3.5 grams
Protein: 29.2 grams
Fat: 40.2 grams
Prep Time
1 hour 15 minutes
Cook Time
25 minutes
Total Time
1 hour 40 minutes
Ingredients
1 pound ground chicken thigh
¼ cup grated Parmesan cheese
½ cup shredded cheddar cheese
½ cup blanched, finely ground almond flour
1 egg
1 ounce finely ground pork rinds
Instructions
Preheat the oven to 375° F. Line two baking sheets with parchment paper.
In a large bowl, mix the chicken, Parmesan and cheddar cheeses.
Take 2 tablespoons of the mixture and form it into a chicken nugget shape, round and thick, about ½ inch high.
Place the nuggets on one of the baking sheets and freeze for 20 minutes.
In a medium bowl, place the almond flour. In a separate medium bowl, whisk the egg. In another medium bowl, place the pork rinds.
Remove the nuggets from the freezer and dip a nugget into the egg. Shake to remove the excess, then press it into the almond flour. Dip it back into the egg, and then press it into the crushed pork rinds to evenly coat.
Place the nuggets on the second baking sheet. Bake for 25 minutes or until the outside begins turning golden and the internal temperature is at least 165° F.
Serve warm with your choice of dipping sauce.
Nutrition Information:
Yield:
5 servings
Serving Size:
4 nuggets
Amount Per Serving:
Calories: 500Total Fat: 40.2gCarbohydrates: 5gNet Carbohydrates: 3.5gFiber: 1.5gProtein: 29.2g