These Keto Brown Butter Bites are a delicious and fun way to get your fat content up if you are doing High Fat Keto or Carnivore! Delicious caramel taste  without the sugar or sweeteners!  You can of course add your sweet touch using a keto friendly sweetener if you wish! 
Things you will Need to Make These Delicious Caramelized Butter Bites!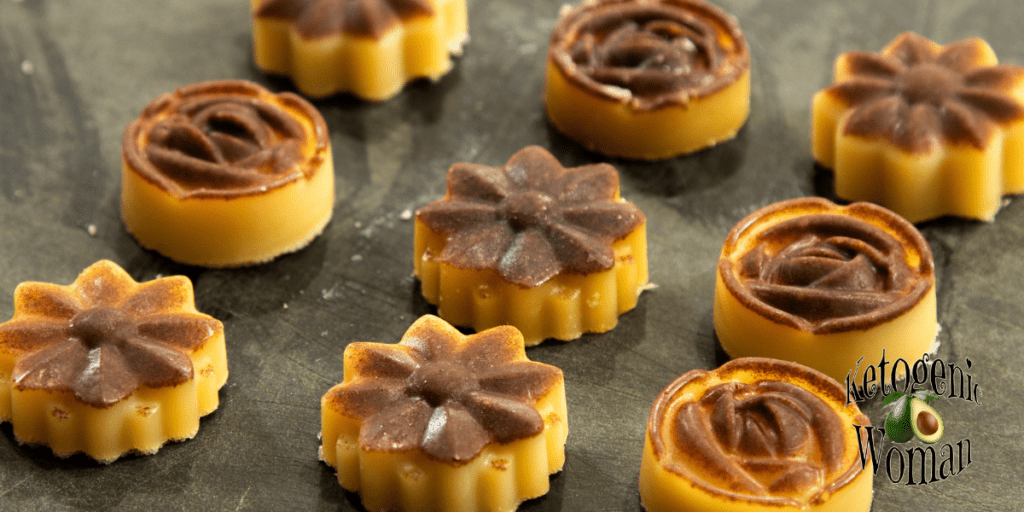 Tips and Tricks for Making the Brown Butter Bites!
Add flavors to enhance your experience and provide variety to your bites. Here are a few examples:
Bacon Bits

Keto Chow (use with unsalted butter only)

Sweetener

Flavored Protein Powder
Other Tips:
Salted vs unsalted butter is a personal choice. Use your favorite butter. You can use half salted/half unsalted as well.

The longer you brown your butter, the more intense the flavor, so experiment to find your favorite.

Use a good quality spatula

Some uses for your Brown Butter Bites: Add to sauces, top grilled meats, mix in with your coffee! I love them straight from the freezer!

Keep in the freezer until ready to use. They do not take long to soften.  
Printable Recipe Card for Keto Brown Butter Bites 
Prep Time
5 minutes
Cook Time
13 minutes
Additional Time
10 minutes
Total Time
28 minutes
Instructions
With stove set to medium, place your stick of butter into a pan.
Melt your butter in the pan and then reduce the temperature to medium low. You will see the butter start to foam at the top. Be sure to stir and scrape the sides.
Keep a close eye on it as once is begins to brown, it can brown very quickly.
If you prefer a milder flavor, remove from heat once it's a golden brown. The darker it gets, the more intense the flavor will be.
Once your butter is browned to your liking, remove the pan from the heat. Let the pan cool for a good 5 minutes.
Once cooled, pour your butter into a glass measuring cup and scrape the pan to get all of the brown bits in there. This is where your flavor is.
If using a mold, and you want consistency in your portions, you can use a teaspoon or tablespoon to measure out and place into your mold. Be sure to stir up the butter in your cup because the brown bits will settle in the bottom. You could also simply pour the butter into the molds.
If you're not using a mold, you can place parchment paper on the bottom of your baking pan and pour the butter in the pan.
Once you've used up all of your butter, place your molds in the freezer. Once frozen, pop out of the mold or break up the sheet and store in a Ziploc bag or storage container and keep in the freezer or fridge.
Notes
1 Stick of butter = ¼ cup = 4 ounces = 8 Tablespoons = 24 teaspoons
You can use these small candy molds or a large sheet mold!
Add flavors to enhance your experience and provide variety to your bites. Here are a few examples: Bacon Bits – Keto Chow (use with unsalted butter only) – Sweetener – Protein Powder
Salted vs unsalted butter is a personal choice. Use your favorite butter. You can use half salted/half unsalted as well.
The longer you brown your butter, the more intense the flavor, so experiment to find your favorite.
Use a good quality spatula
Some uses for your Brown Butter Bites: Add to sauces, top grilled meats, mix in with your coffee, and more…