Sticking to a keto diet doesn't mean you have to give up your favorite Starbucks drink. There are a few hacks to help you order low carb at Starbucks and stick to your ketogenic diet while enjoying the simple pleasures of a delicious cup of coffee.
So the next time you're standing in the Starbucks line, try ordering one of these low-carb Starbucks drinks!
Which Starbucks Drinks Don't Have Carbs?
Have you been wondering what drinks you can get at Starbucks on keto? You'll be happy to hear that there are a few keto-friendly beverages on the menu.
Get your caffeine fix without the extra carbs with these keto-friendly drinks.
Brewed Coffee
A classic brewed hot coffee is an easy win. With zero carbs, you can drink it as is or customize it to your liking with some heavy cream or sugar-free flavoring. Both of which are low in carbs.
It's nothing fancy, but this low-carb Starbucks coffee will do the trick. Try Pike Place Roast or Starbucks Signature Dark Roast for a delicious keto-friendly cup of jo from your favorite coffee shop.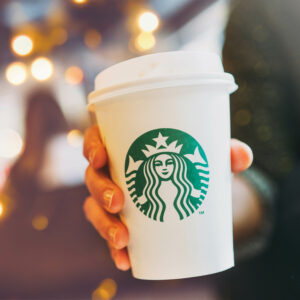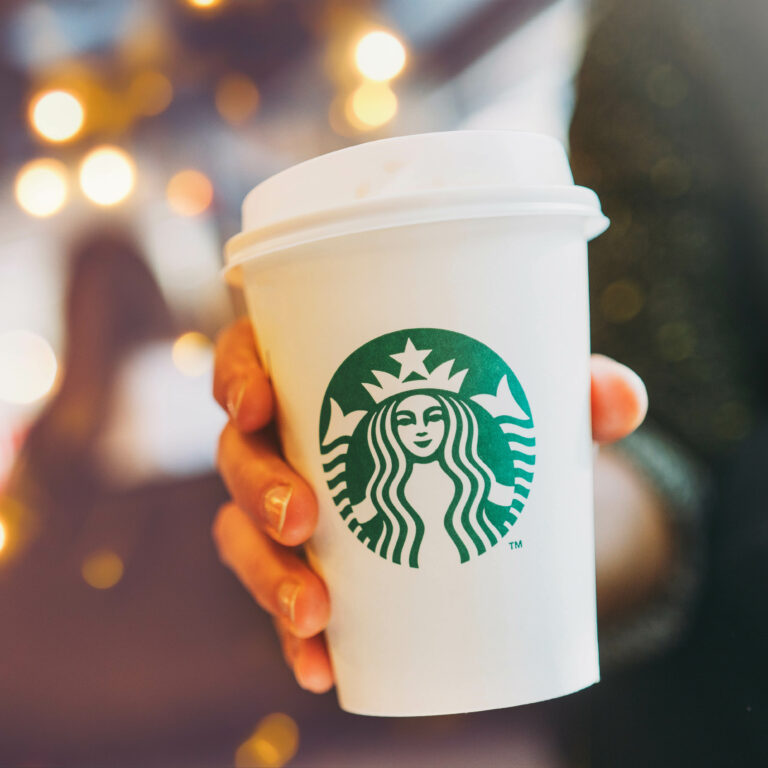 Cold Brew/ Iced Coffee
Need to beat the heat with a cold cup of iced coffee? Try a Starbucks cold brew with a few pumps of sugar-free sweetener of your choice or an artificial sweetener like Stevia. This keto-friendly coffee comes at around 3g of net carbs depending on how many pumps of sweetener you add. Each pump contains about 1g of carbohydrates, so be mindful of that. I also like to add a splash of heavy whipping cream or half and half.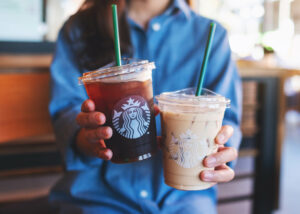 Caffe Americano
A Caffe Americano consists of hot water and brewed espresso and only contains 2g of carbs. If you wish to make this drink a little sweeter, consider adding a sugar-free syrup.
Sugar-free flavors are a great alternative to traditional flavors, containing zero net carbs.
The americano is a simple low-carb Starbucks drink you can easily customize. If you can splurge, consider adding a splash of heavy cream to the mix. This is Mick's go to Starbucks drink!
Espresso
Ringing in at a whopping 2g of carbs, a single shot of espresso can give you the boost you're looking for in the morning. You can also safely add a few espresso shots to another drink on the menu since they are so low in carbohydrates.
Espresso Con Panna
Have a bit of a sweet tooth? This low-carb Starbucks order is perfect. Coming in at 2g of net carbs, the Espresso Con Panna is a single shot of espresso topped with a dollop of whipped cream, giving it that creamy finish we all enjoy.
How do I order low carb at Starbucks?
So we've covered a few drinks with zero or nearly zero grams of carbs. What if you want something a bit fancier, like a latte or mocha? We have some good news; there are keto-friendly options for most of your favorite Starbucks drinks.
Here are a few simple hacks you can apply to almost any drink at Starbucks to make your favorite beverage keto compliant.
If you are thinking about ordering a drink that contains milk or some flavor like chocolate or vanilla—make these changes. Opt for heavy cream, coconut or almond milk. For artificial sweeteners like chocolate, vanilla, and hazelnut, swap them for the sugar-free version.
Some other great low-carb alternatives to regular skim milk are almond milk and coconut milk which are very high in fat and low in carbs.
Here are some examples of popular drinks made keto-friendly.
How To Order Low Carb at Starbucks
Keto Mocha
A mocha consists of milk, chocolate sauce, and espresso. When ordering a low-carb mocha, ask for the skinny mocha sauce, and substitute the milk for a higher-fat alternative like a mix of heavy cream, and water or coconut milk.
Keto Caramel Macchiato
Are you a fan of the caramel macchiato? I mean who isn't? This delicious drink is made with espresso, milk, vanilla syrup, and caramel drizzle. To opt for a keto-friendly version, swap regular milk for coconut or the half heavy cream and half water mix. Ask for pumps of sugar-free vanilla syrup and no caramel. If you're extremely intent on caramel you can opt for a light caramel drizzle, but it will up the carb count.
Keto Cafe Latte
You can enjoy a low-carb latte with any flair of your choosing, as long as they have a sugar-free option available at your local Starbucks. Opt for higher fat milk like heavy cream or coconut milk and your sugar-free flavor of choice, and you're good to go.
Keto London Fog
Earl Grey tea, vanilla, and milk. What a delicious combination. Make this tasty classic keto-friendly by ordering it with a pump of sugar-free vanilla syrup and heavy cream. It will be your new go-to low-carb Starbucks order!
Keto Hot or Iced Tea Drinks
There is a range of teas offered at Starbucks, most of which have, you guessed it, zero carbohydrates! Something like an iced green tea might take you a bit to become accustomed to if you're used to super-sweet beverages. You can always ask to add some sugar-free sweetener. Peach Citrus White Tea Infusion is another good option. Any herbal tea without a sweetener will be your best option for a keto-friendly drink.
Bonus tip: you can make turn your green tea into a keto green tea latte by ordering a green tea bag (not the matcha) and add a few pumps of sugar free vanilla syrup and a splash of heavy cream.
Keto White Drink
The infamous secret menu item. Get your hands on this delicious ketogenic beverage by ordering an unsweetened iced peach citrus white tea, 2-4 pumps of sugar-free vanilla syrup, and a splash of heavy cream.
Keto Frappuccino
Did we say frappuccino? Yes, we did! You can still enjoy this delicious blended beverage with a few alterations. First things first, ask to skip the frappuccino base, this contains a lot of unnecessary sugar. Instead order an iced coffee, with 3 pumps of sugar-free vanilla sweetener (or a flavor of your choice), and 3 pumps of heavy cream blended up Frappuccino style. This is my go to Starbucks drink!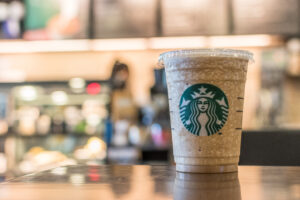 You can also consider ordering some of the above iced drinks, like the keto white drink, blended. Just be sure to skip the frappuccino base!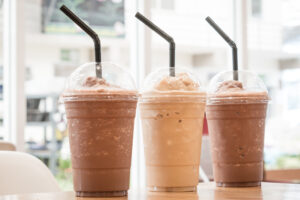 With these simple low-carb hacks, you can tweak any of your favorite drinks to be a little more keto-friendly. If you're ever curious about the carb content of any given drink on the Starbucks menu, you can find the nutrition information on their website.
Enjoy!
You may like my Homemade Recipe for Iced Coffee Popsicles or my Keto Oatmeal Cookie Coffee!