Carnivore Eggs Benedict is super easy to make and you won't believe that it is carnivore compliant! All you need is cloud bread (or not!), eggs and a quick easy Hollandaise sauce! Feel free to tuck some ham, bacon or my personal favorite smoked salmon under the eggs!
Carnivore Eggs Benedict With Easy Hollandaise Sauce
This weekend brunch favorite is something I eat often. Sometimes I just eat the eggs and sauce on a plate. If you want a bun with this, this cloud bread recipe is also carnivore compliant!
Other than that all you need is poached or baked eggs, butter and an optional squirt of lemon!
Kitchen tools needed: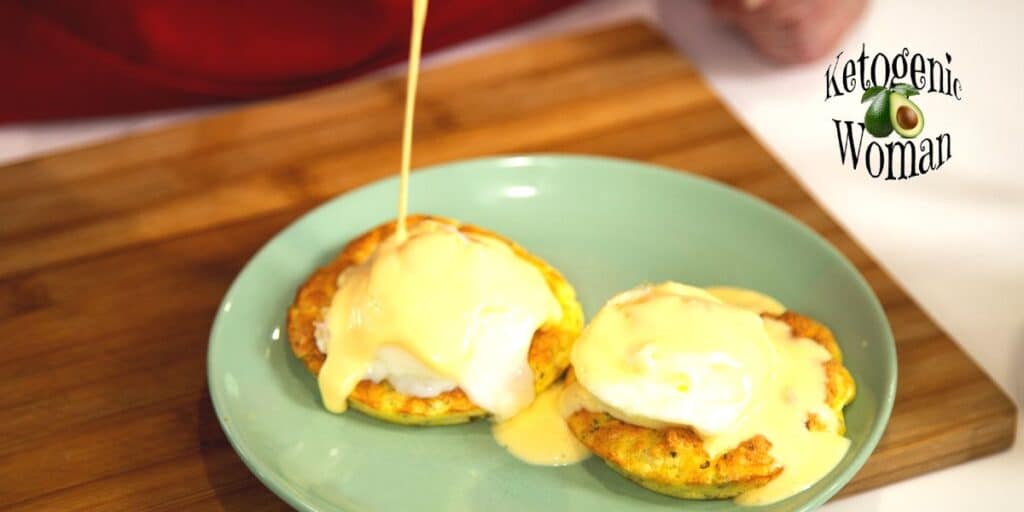 Printable Recipe Card for Carnivore Eggs Benedict
Ingredients
Easy Baked Eggs
Hollandaise Sauce
3 Egg yolks
1 tsp. Lemon juice
1 stick of butter, melted but not hot
Instructions
For the baked eggs:

Pre-heat the oven to 350°.
Using a silicone muffin mold, crack 1 egg in each hole.
Sprinkle with a little sea salt, to taste.
Bake for approximately 10-20 minutes, depending on how you like your eggs. I like my whites to be fully cooked.

For the Hollandaise:

Melt the butter in the microwave. You want it melted, but not hot. (approximately 30 seconds)
Place your 3 yolks in a medium-sized container or mason jar.
Using a stick blender or hand mixer, start blending while very slowly adding your melted butter to the cup. You need to continuously blend. (should take a good 5+ minutes). Your mix should look nice and creamy.
If using unsalted butter, you can add a pinch or 2 of salt, to taste.
At about the halfway point in the blending process, add your lemon juice and continue blending again until all of your butter is incorporated.

Bringing it all together:

Place 2 Cloud bread buns on each plate. Toast them if you prefer.
Top each piece of Cloud bread with one egg.
Drizzle 1 Tbsp. of Hollandaise sauce over each egg and enjoy!
Notes
For Carnivore, you can omit the lemon juice.
1 Stick of butter is 8 Tbsp. or 4 ounces
Suitable for 80/20 Carnivore/Ketovore
Traditionally, the eggs are poached. Feel free to prepare them this way.
Use your favorite Carnivore/Ketovore bun, or if you prefer, don't use a bun at all.
You could also add some cooked bacon or ham to make this a more traditional version.
Nutrition Information:
Yield:
3

Serving Size:
(as shown)

Amount Per Serving:
Calories: 445Total Fat: 40.5gCarbohydrates: 3.7gFiber: 0gSugar: 0gSugar Alcohols: 0gProtein: 16.8g