Making keto fried chicken in the air fryer is a game changer for your low carb lifestyle! This is the best recipe for crunchy and delicious, juicy and flavorful keto fried chicken!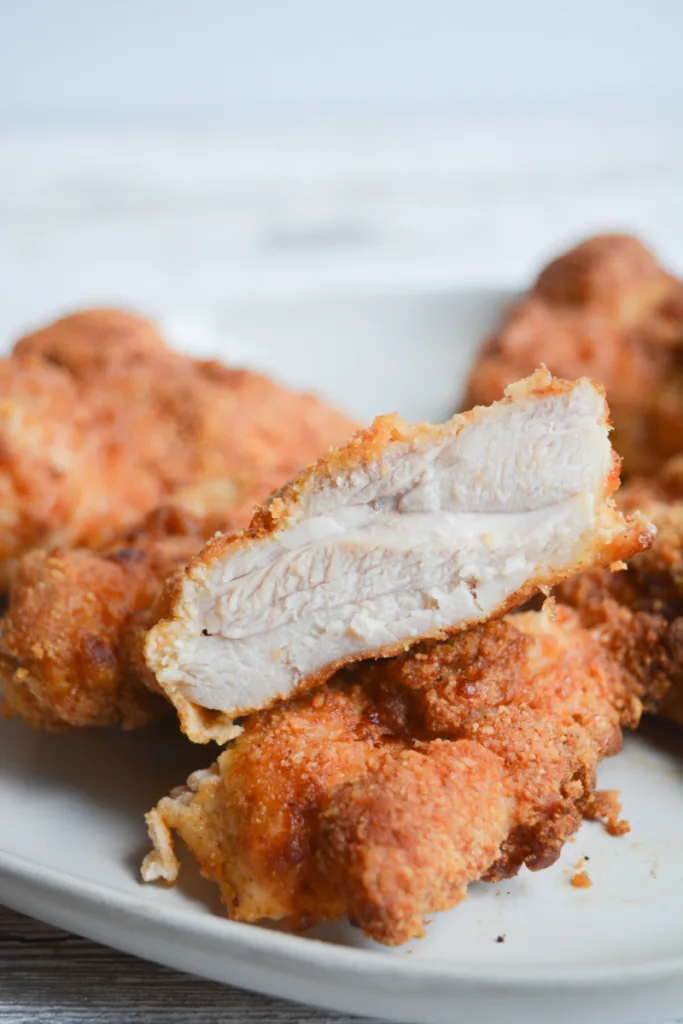 The air fryer is more than a handy appliance…in our home, it's a necessity. We use it every single day, and it's made such a big difference to the ease of preparing meals.
If you're reading this post, I'm guessing you love your air fryer just as much as I love mine and you're ready to take your chicken game to the next level with air fryer keto fried chicken!
By the way, low carb breaded chicken is fantastic, but you I also love cooking non-breaded wings in my air fryer. Check out this delicious recipe for Jamaican Jerk Chicken Wings for a super yummy, spicy treat with a Caribbean feel!
Also, be sure to check out my delicious Cheesy Salsa Chicken Skillet for another awesome keto chicken dish!
What ingredients do I need to make air fryer keto fried chicken?
Chicken – I prefer to use chicken thighs. They're fattier, juicier and more flavorful than chicken breasts. They're also usually a lot cheaper!

Feel free to substitute based on your preferences and what's available to you, but I highly recommend going with chicken thighs.

Seasoning of choice – Some like to go with salt and pepper. Others prefer a mixture of garlic powder, paprika, onion powder and more. My favorite way to make this keto fried chicken in the air fryer is to season it with Slap Ya Mama Cajun Seasoning. I specifically love the White Pepper Blend. The flavors in this blend are seriously so delicious!
Cooking spray – Cooking spray is essential to the success of this recipe.  It helps keep the batter on the chicken when the air fryer fan starts blowing on it, AND it helps give you the golden, crispy texture you're looking for.
 
Eggs – This recipe uses two large eggs.
Heavy Whipping Cream – Half and Half or Buttermilk will also work just the same.
Almond flour – I like to go with a blanched, finely ground almond flour like Blue Diamond. This has been my favorite brand for a few years now.
Grated Parmesan Cheese – Yep, the stuff in the green plastic can at the grocery store! It works wonderfully for keto breading!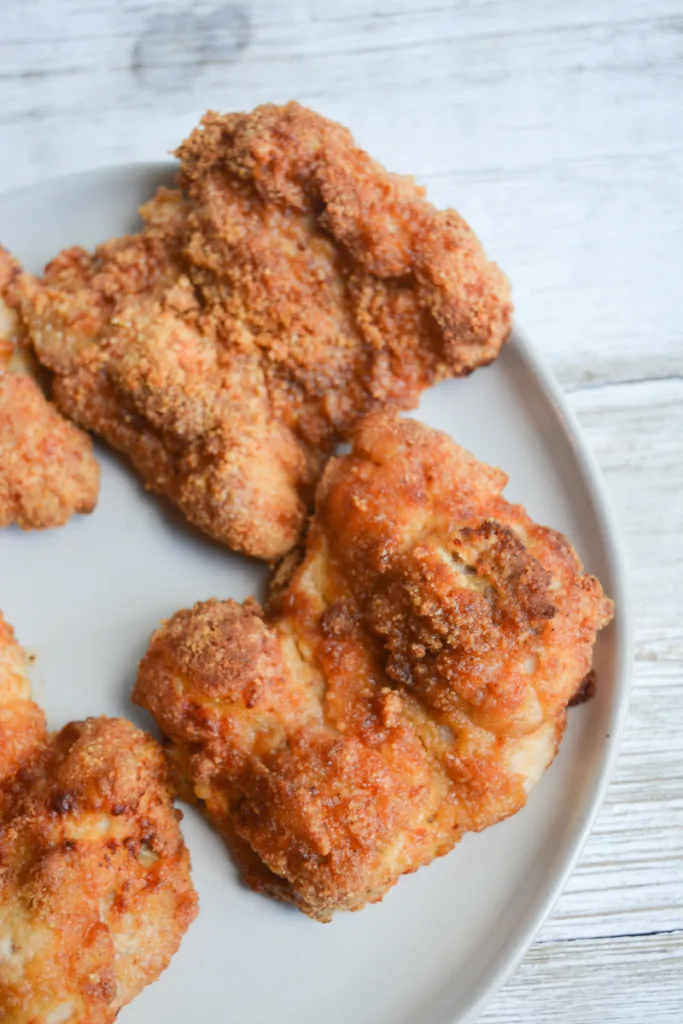 Crispy Low Carb Chicken Nutrition Info
This recipe makes one pound of delicious chicken thighs. For one serving (¼ pound) you're looking at a rough estimate of:
Calories: 442 Calories
Total Carbs: 6.1 grams
Fiber: 3 grams
Net Carbs: 3.1 grams
Protein: 36.1 grams
Fat: 31.6 grams
And here's a nutrition breakdown based on the ingredients I used:
Prep Time
10 minutes
Cook Time
20 minutes
Total Time
30 minutes
Ingredients
Chicken
1 lb boneless skinless chicken thigh
1 tablespoon of seasoning of choice
Cooking Spray
Egg Mixture
2 eggs
¼ cup heavy whipping cream
Breading
1 cup almond flour
½ cup grated Parmesan cheese
1 tablespoon seasoning of choice
Instructions
In a large bowl, place chicken thighs and rub generously with sesoning of choice.
In a separate bowl, mix together almond flour, parmesan cheese and seasoning of choice.
In a third bowl, mix together eggs and cream.
Dip chicken thighs, one at a time, in egg and cream mixture before immediately covering them with almond flour "breading" mixture.
For crispier chicken, place on a plate and return chicken to refrigerator for at least one hour. This step is optional, but highly recommended if you have the time.
Spray breaded chicken thighs with cooking spray of choice before placing in air fryer basket. Work in batches as necessary.
Set air fryer temperature to 350°F and set timer for 20 minutes.
Chicken will be done when the breading is golden brown and the internal temperature reaches at least 165°F.
Carefully remove chicken from air fryer basket and allow to cool on a cooling rack before serving.
Notes
The cooking spray is a must in my experience. It helps keep the batter on the chicken when the air fryer fan starts blowing on it, AND it helps give you the golden, crispy texture you're looking for.
Another secret I learned while preparing this recipe is allowing the batter to dry out in the refrigerator. If you want an even crispier skin, I would recommend setting your breaded chicken on a plate in your fridge for at least an hour before air frying.
Nutrition Information:
Yield:
4 servings
Serving Size:
¼ of chicken
Amount Per Serving:
Calories: 442Total Fat: 31.6gCarbohydrates: 6.1gNet Carbohydrates: 3.1gFiber: 3gProtein: 36.1g